Charity supporting Russian speaking/SEND families in UK seeks Trustee with law expertise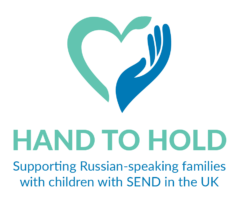 Hand to Hold is looking for committed individuals willing to use their expertise and skills to help us deliver an ambitious strategy and vision to help every Russian-speaking family with children with SEND in the UK which needs our support.
Our charitable initiative was created in September 2020 following a chain of tragic events during the lockdown.. The purpose of our prospective charitable organisation is the relief of Russian-speaking families in need in the UK by reason of ill health, disability, financial hardship or other disadvantage as a result of their children or young adult with special education needs and disabilities. We have developed a number of programmes to fulfil the purpose, including psychological support, socialisation and integration support, physical, and legal support.
We're getting ready for registration with Charity Commission as a Charitable Incorporated Organisation and looking for volunteers helping us to fulfil our charitable strategy and purpose. If you would like to help the Russian Speaking families with children with SEND, we would be delighted to welcome you in our team of volunteers.
We are looking for candidates with the following experience:
A senior leader in a charity/non-profit, with direct experience of fundraising and delivering fundraising programmes.
Clinical Psychology, working directly with or responsible for services that support parents with children and young people with SEND.
Public Relations in Third Sector.
We are looking for individuals with a diversity of vision and ambition, excellent communication and governance skills.
Requirements:
5+ years experience in either:
Third sector;
Governance;
Law,
Clinical Psychology.
Involvement:
1-3 days per quarter.
Please click here for further information.